It was a wonderful, dry evening and people lined the streets without coats as we waited for the 2008 Ilfracombe Carnival procession to leave Hillsborough.
I got the impression that there were less floats than previously, but the standard was superb. It was a great spectacle for holiday-makers and residents alike and all in aid of St John Ambulance Brigade.
So I was waiting for some of the cast of the Studio Theatre and Small Pond Productions joint production of Me And My Girl to arrive with our advertising banner – the show is on at the Landmark Theatre from 16th to 18th October 2008.
And here they are . . . 
Here's Uncle Tom Cobbleigh . . .
And Steptoe and Son's horse . . .
Are they on their way to the Notting Hill Carnival?
Followed by an original Olympic hero . . .
And the drummers of Humdrumconundrum . . . .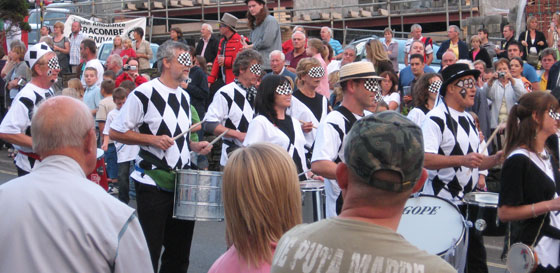 Is that fire-breathing dragon from across the Bristol Channel?
And the Youth Band . . .
There were bagpipes, drummers, majorettes, youngsters and old'uns alike.
Ilfracombe should be proud to put on such a great spectacle and well done to all who built the floats, made their costumes, drove the vehicles and stewarded on the day.
Here's looking forward to next year's Ilfracombe Carnival!